Tourism & Event Management (B. A.)
The tourism and event market are important economic factors on a national and international level with above-average growth. According to current forecasts, this development will continue over the next few decades, which is why the industry is already one of the most important employers. Tourism knows nature according to a close integration with event management on e.g. in destination management for public events, in the wellness area or in the hotel and restaurant industry. Have events established itself as an essential part of tourism concepts e.g. at trade fair and Conference trips, concert and festival tourism as well as major sporting events. For many Companies are also a guarantee of success in marketing events to attract attention excite and remain in long-term positive memories through perfect staging.
Programme profile
The tourism market as well as the event market are considered significant economic factors on a national and international level with above-average growth. According to current forecasts, this development will continue in the coming decades after the pandemic-related restrictions. The industry is therefore still one of the most important employers and continues to produce new, exciting business models in the field of digital events as well as sustainable tourism. By its very nature, tourism is closely intertwined with event management, e.g. in destination management for public events, in the wellness sector or in the hotel and restaurant industry. Events, in turn, have established themselves as an essential component of tourism concepts, e.g. in trade fair and conference travel, concert and festival tourism and major sporting events. For many companies, events - whether live, online or hybrid - are also a guarantee of success in marketing, in order to attract attention and to be remembered positively in the long term through perfect staging.

The interaction of the two growth markets of tourism and events results in excellent career paths. The access routes before and employment opportunities after graduation are correspondingly complex. Students at the FHD are prepared for an international career in the tourism and event sector. The demand for professional, specialised employees with academic qualifications is increasing, especially for middle and senior management. Highly educated leaders are sought who can proactively develop and implement new business concepts against the backdrop of digitalisation and within the framework of sustainability approaches.
The study content of the Bachelor's degree programme "Tourism & Event Management" is oriented towards the current requirement profiles and trends in the tourism and event industry. The strength lies in the combination of theoretical-methodical knowledge with simultaneous application and practical orientation. In addition, there is intensive foreign language training in the compulsory business languages English and Spanish. During the integrated semester abroad at one of our cooperating partner universities, students consolidate their language skills and get to know the local cultural conditions. The personal development of the students is additionally promoted in numerous projects. The aim is for graduates to leave the programme as responsible decision-makers with economic, legal, linguistic and intercultural skills that correspond to the current demand for professional profiles in the tourism and event industry.
Study structure
The standard period of study is 3 years (6 semesters) and is completed with the Bachelor of Arts degree. The Bachelor's programme has a modular structure (with 180 credit points according to the European Credit Transfer System - ECTS). In the last semester, three professional field orientations can be chosen:
Tourism
Event management
Health and wellness tourism
Depending on previous education or life situation (e.g. families with children), the programme can be chosen as a 6-semester (full-time) or 8-semester (part-time) study variant. For professional practitioners with corresponding professional qualifications, there is the possibility of acquiring the Bachelor's degree in a part-time study variant.
Praxisphase und Ausland
The linking of theory and practice is an elementary component of the study concept. The Tourism & Event Management (B. A.) degree programme includes a 12-week internship that seamlessly follows the semester abroad. The internship can be completed either in Germany or abroad.
Curriculum / Study schedule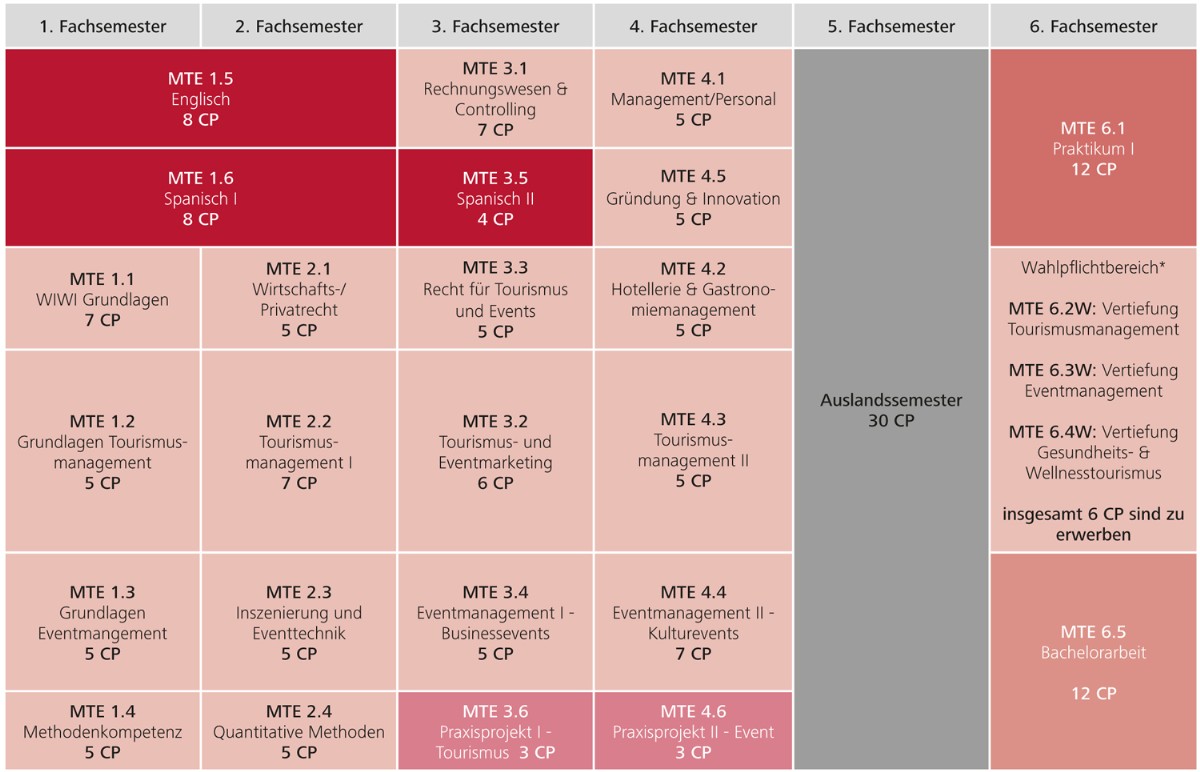 Study focus
The Bachelor's programme lasts six semesters (including a semester abroad) and consists of various modules.

Course contents include:
Introduction to economics
Tourism Management
Event Management
Tourism and event marketing
Tourism and event law
Destination and Tour Operator Management
Hotel and restaurant management
Business and cultural events
Staging and event technology
Business English and Spanish
Management and Personnel
Accounting and Controlling
Start-up and Innovation Management
Degree
Upon successful completion of the programme, you will acquire the internationally recognised Bachelor of Arts Tourism & Event Management (B. A.) degree. With this degree, you are excellently qualified for middle management and leadership positions in the corresponding fields of work and activity in the tourism and event industry on both national and international terrain. A further Master's degree is also possible.
Career prospects
The professional fields and perspectives for graduates of this degree programme are as varied and dynamic as the industry itself. In addition to the well-known fields of activity such as hotels, air travel and tour operators, the areas of event management, trade fairs and congresses, destination marketing and business travel are increasingly becoming the focus of numerous job offers. It is not uncommon for large corporations with their own event and business travel departments or tourism organisations and associations to be among the employers of future tourism and event managers.
The demand for academically trained workers in the field of tourism and event management is constantly increasing and there are numerous responsible job opportunities in this professional field.
Possible career fields and areas of work include:
Tourism organisations, destinations
Tour operators, internet travel agencies
Airlines & airports
Hotel companies
Leisure facilities
Wellness industry
Event agencies and institutes
Event management in marketing
Culture and concert organisers
Trade fair and congress organisers
Major international event organisers
Organisers of sporting events
many other professional fields
Study requirements
The Bachelor of Arts (B. A.) Tourism & Event Management programme is NC-free and is aimed at prospective students who want to take on specialist and management tasks in the tourism and event industry with an internationally recognised university degree.

Dresden University of Applied Sciences is a state-recognised private university of applied sciences. Students must therefore fulfil at least the same formal admission requirements as are necessary for taking up a comparable course of study at a public university:
Allgemeine Hochschulreife, Fachhochschulreife or a qualification recognised as equivalent.
According to § 17 SächsHSFG (Saxony Higher Education Act), it is possible to study without an Abitur by means of a subject-related study qualification.

Very good German language skills are also required, as well as English language skills at level B1 (CEFR)², which corresponds to at least seven years of language instruction at school. You can find out about alternatives from our student advisory service.
Application
You would like to apply for the degree programme Tourism & Event Management (B. A.)?
Then please send us the completed enrolment application form and all the relevant documents:
Letter of motivation
Curriculum vitae
Photograph 
Certificates / Study records

You can send us your application by post, by e-mail to bewerbung@fh-dresden.eu or directly online using our application form. You will receive a confirmation of receipt as soon as possible. After reviewing your documents, you will receive an invitation to an interview.
If you have any questions, please do not hesitate to contact our colleagues in the Student Advisory Service.
Tuition fees and financing
Studying at the private, state-recognised university is subject to fees. Full-time studies in Tourism & Event Management are available from €532 per month*.
We will be happy to answer all your questions about tuition fees and financing options during a counselling interview at Dresden University of Applied Sciences.
You can obtain comprehensive information about available funding opportunities here or individually during a personal counselling interview. Due to the tuition fees, you will study in small groups, closely supervised by our professors, so that you can keep to the standard period of study. This makes it possible for you to plan your studies and gain a foothold in practice more quickly.
*with a one-off payment, duration of study 36 months